Coalition Comes Together, Rebuilds Hialeah Family's Home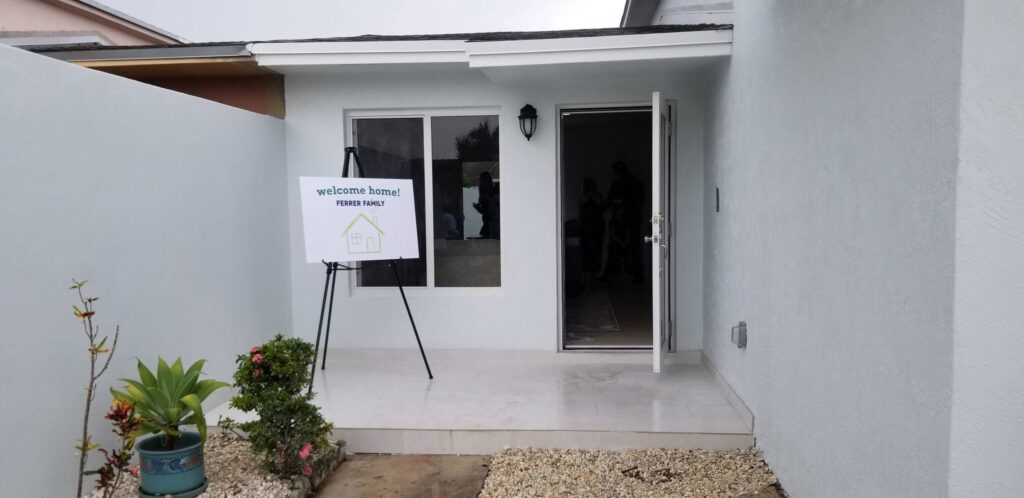 FT. LAUDERDALE, Fla. – What a difference a year makes!
Broward County Commissioner Mark Bogen, The Florida Panthers, and Moss Construction are pleased to announce that, after a devastating fire, the reconstruction of Jose and Delsy Ferrer's Hialeah home is complete. A small ceremony took place on Monday morning, May 18, at the couple's home to welcome them and their daughter.
"This project was only possible because our business partners came together to donate their time, labor and materials to help restore this family's home," said Scott Moss, CEO of Moss Construction. "We are always amazed by the incredible dedication to the community of South Florida and are proud to have been part of this great collaboration."
In February 2019, the Ferrer family's house was destroyed in a fire, just months after the couple had finished paying off the mortgage.

However, their story caught the attention of Bogen who with the help of AECOM Engineering's Mark Blanchard reached out to the Florida Panthers, Moss Construction and several South Florida businesses. By July 2019, the group had raised $50,000 to help rebuild the couple's home and begun the permitting process in the City of Hialeah.
"Home ownership is a quintessential American Dream, and the Ferrer's through no fault of their own had seen their 30-year dream disappear," said Bogen. "We all came together from different industries and counties, to help a family that was against the ropes. This is what community is all about." In addition to Moss Construction and AECOM Engineering's help with the reconstruction, several companies helped rebuild and furnish the Ferrer's home, including City Furniture, CORWILL Architects, Drywall Contractors, Central Broward Construction, Advanced Stucco, CES Consultants, Y & T Plumbing, Aurora Mechanical, JGR Construction Company, Italkraft, Century Tile, Solution Construction, Redland, Amaro Landscaping, Bouche / Whirlpool, Ready Windows, and EWS.
About Moss:
Moss is a national privately held construction firm providing innovative solutions resulting in award-winning projects. With regional offices across the United States, Moss focuses on construction management, design-build and public-private partnerships. The company's diverse portfolio encompasses a wide range of sectors, including luxury high-rise residential, landmark mixed-use developments, hospitality, K-12 and higher education, justice and solar energy. Moss is ranked by Engineering News-Record as one of the nation's top 100 general contractors. Moss prides itself on a strong entrepreneurial culture that honors safety, quality, client engagement and employee development. Its employees consistently rank Moss as one of the best places to work.
About Florida Panthers Hockey Club & BB&T Center:
The Florida Panthers entered the National Hockey League in 1993, becoming one of the most successful first-year expansion teams in history. By just their third season, the Panthers reached the 1996 Stanley Cup Final in memorable fashion during their 'Year of the Rat' run as fans in South Florida littered the ice with rubber rats in celebration of goals and wins. In 1998, the Panthers moved from Miami Arena to their current home in Sunrise, Fla., BB&T Center, where the club has won two division titles (2011-12 & 2015-16), hosted the NHL Draft twice (2001 & 2015) and the NHL All-Star Game in 2003. Led by owner Vincent J. Viola since Sept. 27, 2013, the organization has placed an emphasis on building a winning culture in South Florida and becoming stewards of its community. Under President of Hockey Operations & General Manager Dale Tallon and Head Coach Joel Quenneville, the Panthers have grown into a fast, dynamic and exciting team boasting talented young All-Stars Aleksander Barkov and Aaron Ekblad, one of the league's top goaltenders Sergei Bobrovsky, proven point producers, Jonathan Huberdeau, Evgenii Dadonov and Mike Hoffman and an up-and-coming group of prospects set to make the club contenders for years to come.