Why Moss?
THE BEST IN THE INDUSTRY TO UNLOCK YOUR POTENTIAL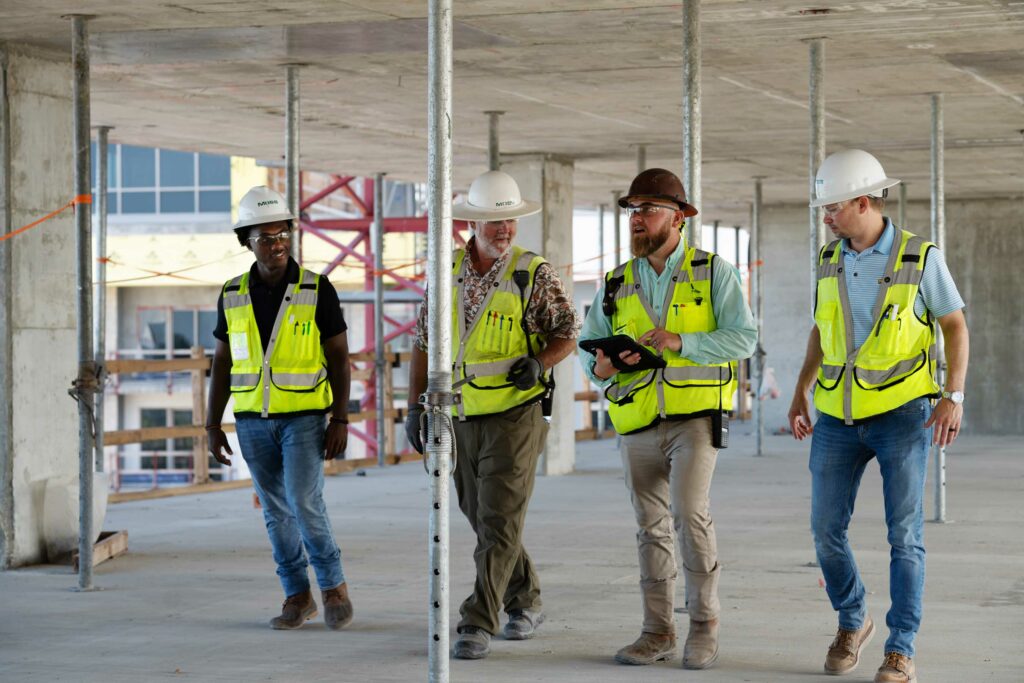 Why Moss?
UNITING CONSTRUCTION EXPERTS AND RISING STARS FOR A LASTING IMPACT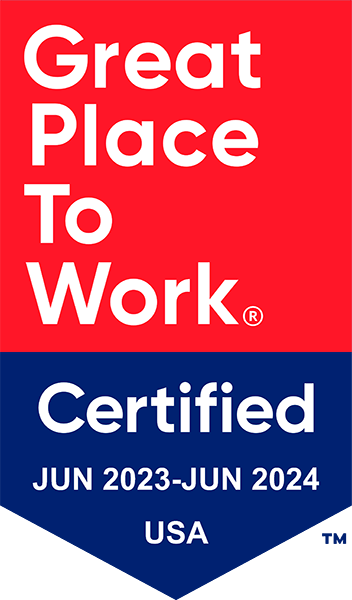 Our powerhouse team fuels our extraordinary growth and exceptional results. As a billion-dollar construction firm, Moss embraces a variety of salaried and hourly positions, each playing a vital role in our continued success. We don't just offer jobs; we offer a dynamic platform for growth, impact, and personal fulfillment. We recognize that a fulfilling career isn't just about finding a place to work – it's about finding a place where you can thrive, make a difference, and truly matter.
Let's dive into why Moss isn't just a construction firm; it's a life-changing opportunity waiting to be seized.
We are a family company with one simple mission, empower to create the exceptional, and led by three core values: Honoring Relationships, Entrepreneurial Spirit, and Contagious Energy.
By joining Moss, you're not just taking a job; you're stepping into a family environment that celebrates your talent, encourages your growth, and lays the foundation for your unparalleled achievements. We honor our relationships and we're committed to providing you with the resources, mentorship, and opportunities you need to flourish.
If you're someone who doesn't settle for mediocrity, who relentlessly pursues excellence, and who aspires to be among the finest in the industry, your entrepreneurial spirit finds a natural path at Moss. We eagerly anticipate your application, knowing that you possess the qualities that align with our core values and our vision for the future.
Our foundation rests on the synergy and contagious energy between seasoned construction experts and emerging talents, creating a powerhouse team that drives our extraordinary growth and triumphs. Moss isn't just a company; it's a vibrant ecosystem encompassing a diverse array of salaried and hourly positions, each with a pivotal role in shaping our ongoing success story.
Don't wait; take that pivotal first step towards a rewarding future. Join the Moss family today and become a driving force behind our shared mission of transforming the construction landscape while shaping your own legacy. Your journey starts here.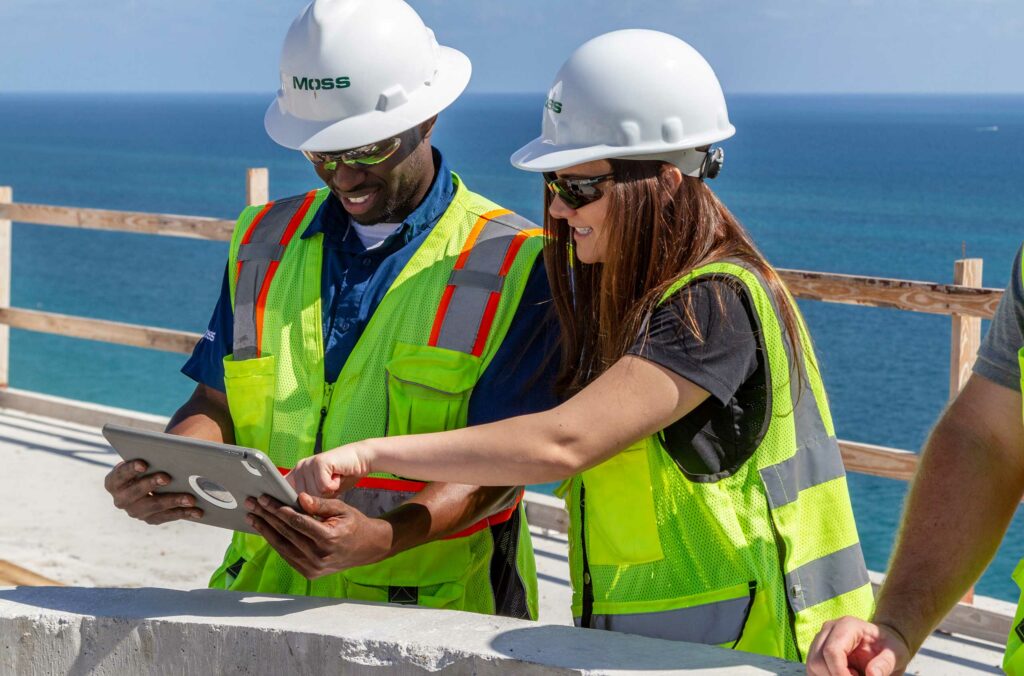 PROFESSIONAL DEVELOPMENT
OUR PEOPLE ARE OUR GREATEST INVESTMENT
EMPOWERING PERSONAL SUCCESS
We wholeheartedly believe that our greatest investment lies in our people. They are the driving force behind our unwavering commitment to service and quality, propelling you to new heights of success.
To ensure our team members thrive and excel, we prioritize training and development at every level of our organization. By creating a culture of continuous learning, we empower you to learn directly from our seasoned experts and collaborate with colleagues from diverse backgrounds.
At Moss, knowledge is shared, best practices are exchanged, and experiences are valued. Together, we create an environment where growth is not only encouraged but celebrated.
Learning Opportunities at Moss Include:
Employee Resource Groups
eLearning portal
Safety
Management/business courses
Leadership development
Training events
Technical classes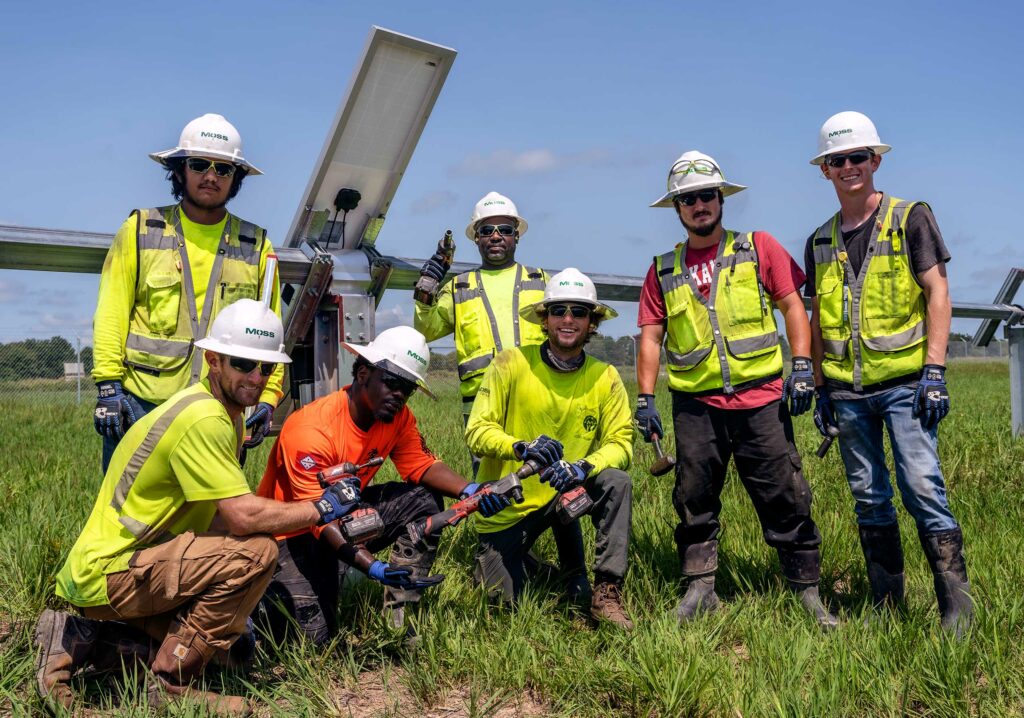 EMPLOYEE SAFETY
IGNITING CAREERS, CHAMPIONING SAFETY
At Moss, safety on our jobsites is not just a requirement but a fundamental core value that shapes every aspect of our operations. We firmly believe that a commitment to safety is the cornerstone of a successful and sustainable work environment. Our approach to safety goes beyond mere compliance; it is a mindset that influences every decision we make, every action we take, and every project we undertake.
We empower our people to take on challenges, innovate, and deliver their best work every day in a supportive and inclusive family-like environment. In our psychologically safe atmosphere, voices are heard, contributions are valued, and everyone plays a vital role in achieving our shared goals. Our employees consistently rate Moss as one of the best places to work, reflecting our influential culture that inspires and motivates.
We are a high-performing team driven by excellence with a robust safety culture that places the well-being of our employees and partners at the forefront. Our dedicated risk management experts develop comprehensive, site-specific safety plans that set the industry standard.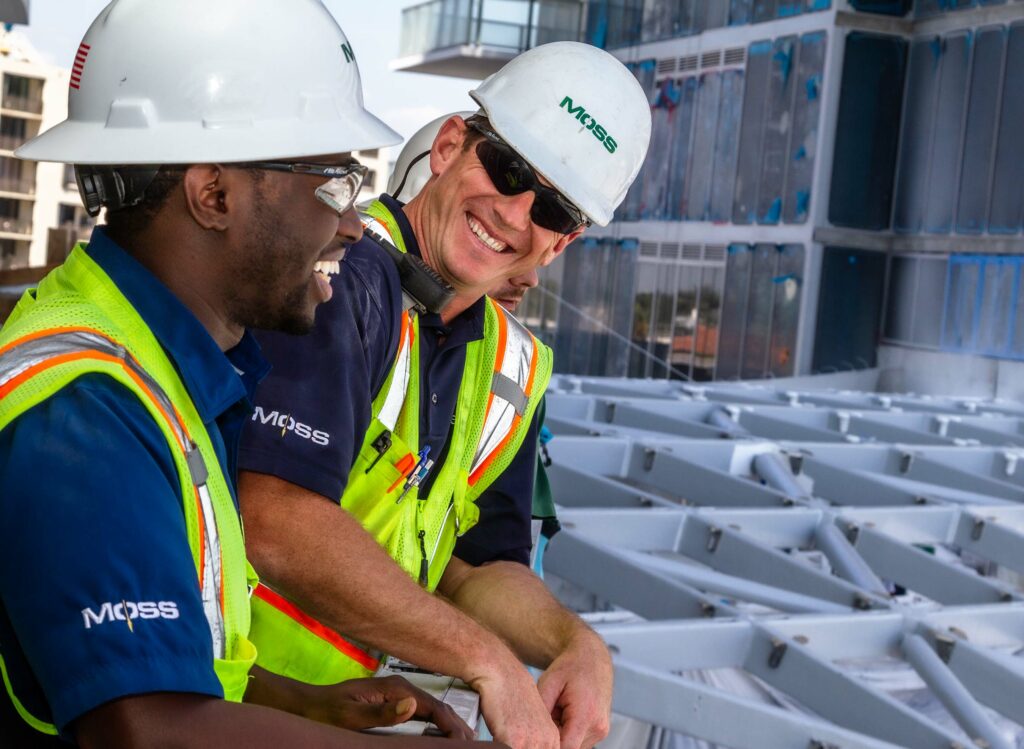 TOTAL REWARDS
Empowering Our Team: Creating Value for Our Employees
As an employer of choice in our industry and in the communities we serve, we understand the importance of providing employees with a comprehensive and competitive compensation package — it's the least we can do for our people.
We also understand that attracting and retaining top talent requires more than just a paycheck. That's why we go above and beyond to provide a comprehensive benefits package. We believe that our benefits are the foundation of our success in assembling a team of exceptional individuals who drive our business forward.
Our employees have access to an array of benefits that ensure their well-being and peace of mind, including:
Health Benefits
Medical
Dental
Vision
Health Savings Account
Healthcare Flexible Spending Account
Health Advocacy Services
Employee Assistance Program
Welfare Benefits
Life and AD&D Insurance
Short and Long-Term Disability
Maternity/Paternity Leave
Supplemental Benefits
Voluntary Life and AD&D
Hospitalization
Accident
Critical Illness
Legal Services
Pet Insurance
Time Off
Paid Vacation
Sick and Bereavement
Paid Holidays
Retirement Benefits
401(k) Savings Plan with Matching and Profit-sharing
Other
Continuing Education Assistance
Discover for yourself the Moss difference today!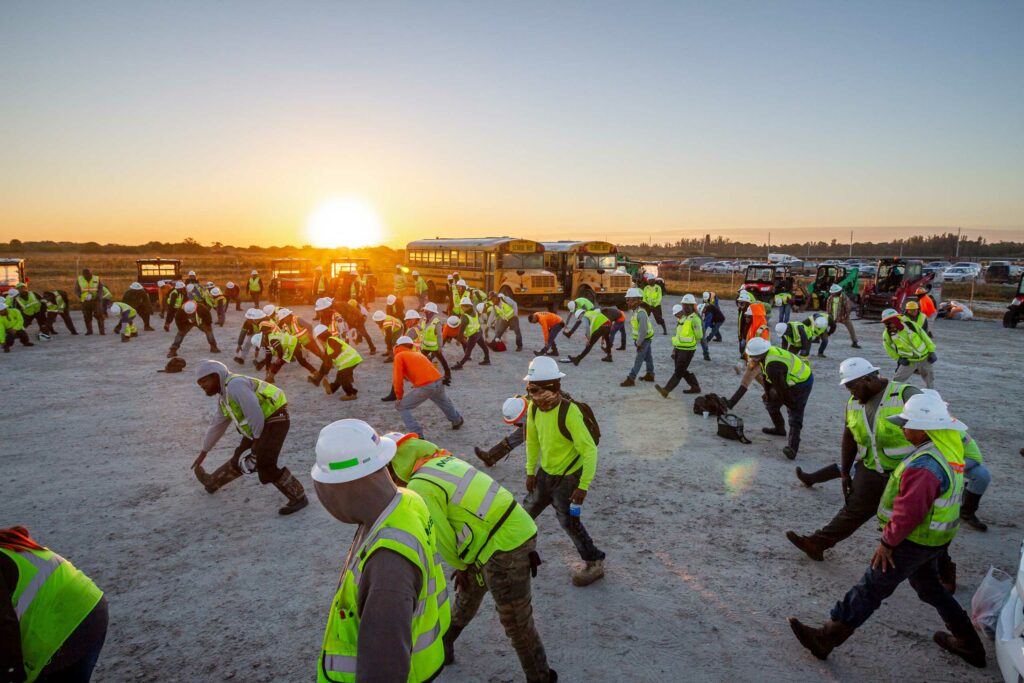 EQUAL EMPLOYMENT OPPORTUNITY
We embrace the power of diversity. We're an equal opportunity employer, committed to providing a work environment where everyone has an equal chance to thrive. We stand against discrimination based on race, color, gender identity, sex, sexual orientation, age, religion, national origin, disability, or veteran status. Our Human Resources Officer ensures compliance with all laws and regulations, fostering an inclusive culture that celebrates the strengths of every individual. We encourage referrals and job opportunities to empower minorities, females, individuals with disabilities, and veterans. Join us and be part of a team that respects and values each unique perspective.
DRUG-FREE WORKPLACE
Safety and productivity go hand in hand at Moss. That's why we maintain a drug-free workplace, dedicated to the well-being of our employees. Our comprehensive substance abuse policy tackles the serious issue of drug and alcohol abuse head-on. While we respect privacy, we're committed to providing resources for employees and their families to overcome substance abuse challenges. Our Standard of Conduct prohibits the use of illegal drugs, alcohol abuse, and prescription medication misuse. We encourage those struggling with substance abuse to seek voluntary help to ensure a safe and productive environment for all.
Together, we improve our lives, our careers, and the lives of those we work for. We empower each other constantly to create the exceptional to build the future!